How It's Made: Marbled Papers and Backgrounds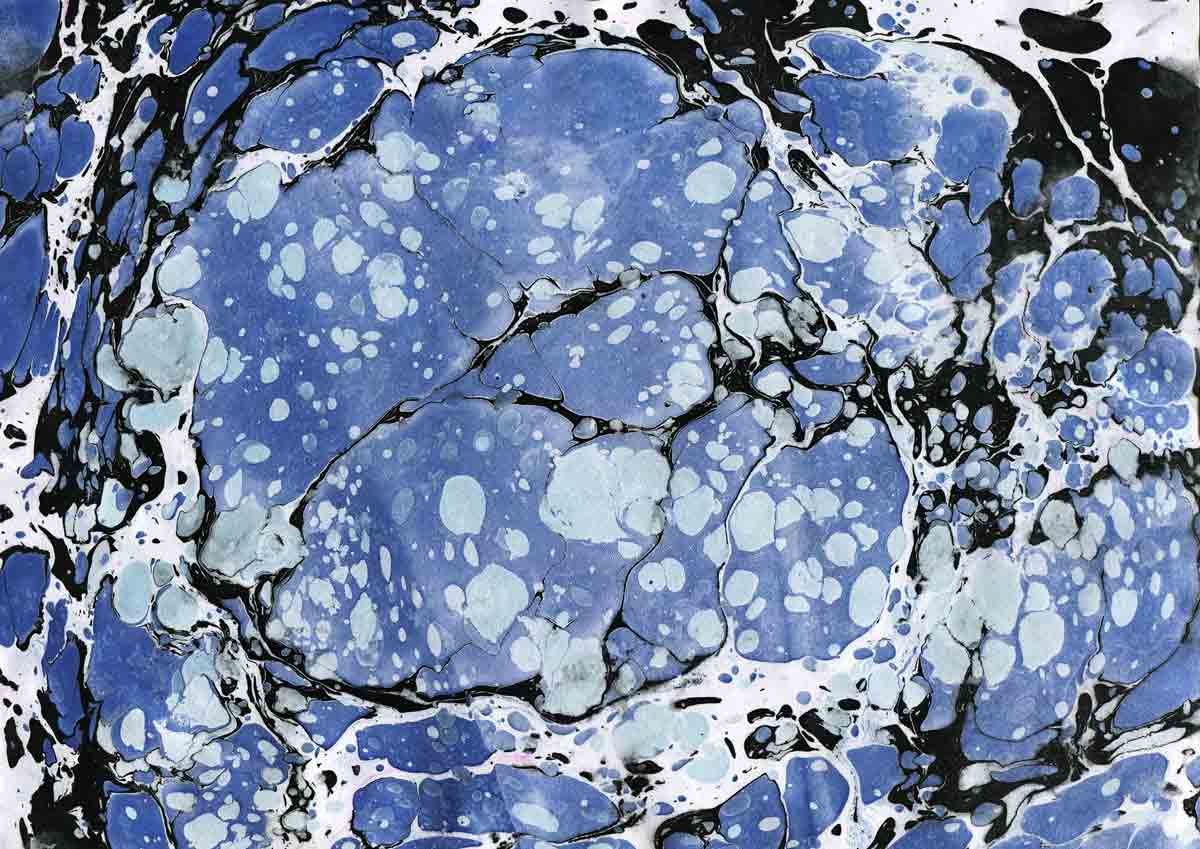 We may make money if you purchase products and services when we use affiliate links. As an Amazon Associate we earn from qualifying purchases. Thank you for your support!
I am so excited to offer my original marbled paper designs available to download and thought it would be fun to share my process for creating them!
I published this video several years ago that you can watch:
How I Learned to Marble Paper
I didn't really know what paper marbling was until several years ago when my Dad was getting ready to do some fall Colonial festivals. My Dad makes wooden buckets and rope, and he had an extra large space at one of the festivals and asked if I might like to do something related to bookbinding.
I thought it might be a little boring if people just watched me sew together papers all day, so I decided to venture into the world of paper marbling. Sure enough, I quickly got "roped into" marbling quite a lot of things!
The History of Marbled Paper
Hand-painted marbled papers were often used in decorating book covers as well as the inner pages. Marbled papers were often also used for gift wrap and other decorative fancy papers.
The art of marbling was a highly guarded secret – rumour has it that the early paper marblers would often create only at night, stuffing rags under doorways and covering their windows so no one would find them or discover how the marbled paper was made.
Marbled paper was also VERY expensive – and often smuggled as the decorative paper was heavily taxed depending on where it was imported to and the use!
The process for creating these unique marbled designs remained a secret until 1916 when Josef Halfer published the book The Progress of the Marbling Art, from Technical Scientific Principles. It was the first book ever written or published on the subject.
There weren't any books or online classes at the time when I decided to learn the art of marbling paper, so with that original book published in 1916 as my only guide, it was definitely a trial and error process but my persistence paid off and the results were beautiful!
Today there are a lot more resources available to learn how to marble paper, but it's just as much as a science as it is an art – there are a LOT of factors to consider with everything from the environmental conditions of the air temperature to the chemical makeup of the paints used.
Fortunately, after demonstrating at a Colonial Festival in freezing, windy weather, I can tell you my method at least has been field tested. (Literally!)
How Paper is Marbled
Marbled paper begins with creating a size made of carageen – this has a thin, runny jello consistency but is what makes it possible for the paints to float on the top to be used to create designs. You can use other materials for the size, but in my humid Pittsburgh climate the carageen seems to set up the best.
Once the size is ready, you then need to add paints to the top of it. The paint formula is a tricky one to get right because you usually need to find an optimal balance between the amount of pigment in the paint along with the fluidity of the paint – if it's too watery and diluted, you won't get the bright colors, but if the paint is too thick it will simply sink to the bottom of the size because the pigments are too heavy. Certain colors, like cobalt blue and others are a little trickier + more scientific than others!
After you create your marbled design, it's time to make a print. This too is a bit of a science, because if the paper is not properly prepared or has additives in it, you'll find the paint just slides right off when you go to rinse the carageen off it after the print is made.
The supplies for making marbled paper are somewhat expensive and difficult to come by – you won't find carageen powder at most stores and you often need to make your own tools for creating the designs.
It's also labor and time-intensive and requires some planning – if you want to marble, you need to plan at least 24 hours ahead so you can prepare everything.
While it's not an art that just anyone could pick up and do on a whim at home one day, I do think it's a worthwhile investment and beautiful craft to learn. There are so many possibilities for what you can do with the finished marbled papers!
Here's some of the ones we have available here you can download for any of your own creative projects! (Yes, even for commercial use!)
Digitizing The Marbled Papers
After the papers are made and dried, next comes another challenge: digitizing the artwork.
When you scan or photograph a painting, many times the beautiful colors you capture aren't always easily printed, especially if they are very bright and vivid saturated colors.
I scan all of my artwork at 600 ppi, so that it's easy for me to edit for print and still offer high resolution images at 300 ppi. Each of my marbled paper prints then need to be checked for gamut and optimized so that when they are printed they look just as beautiful on paper as they do on the screen.
It's a challenging project and these papers definitely are time-consuming and labor intensive to create, but it's a super fun process and the possibilities are endless for what you can make!
I still have many more marbled papers to add to our site (and I want to make some new ones soon!) – but here's a preview of some of the ones we have available for you to use and enjoy. Sign up for a membership and you can download them all!
And yes – you can use them for any kind of project, even commercially for items you sell! See our commercial licensing terms of use.
The papers are so fun to use for so many projects – whether you're making traditionally bound books or want to print them out for journals or collage or even use them as a background for text.
I hope you enjoy them and of course if you make anything with them I would absolutely LOVE to see what you create!