How to Use Junk Journal Templates
Our junk journal templates make it super easy to design and create your very own envelopes, pockets, tags, tuck spots, and more. In this post, I'll share some tips and ideas for the many different ways you can use them.
---
5 Ways to Use These Junk Journal Templates
There are many different ways you can use the templates. Here are some different things you can do, depending on what you like and what works for you!
Print and Cut to Use as Tracing Files:
This is the most basic way to use these templates – simply print out the PDF file, cut the items out, and then you can use them as templates to easily trace them onto any kind of paper.
This is a good choice if you want to use papers that don't always play nice with printers, like tissue paper. You could even use them for tracing onto fabric you want to cut out!
Print Onto Patterned or Printed Paper
Another option is to print these templates directly onto scrapbook paper or printed paper. If you've already printed out some paper backgrounds, simply stick them back in the printer and then print these templates onto them to have easy to see lines to cut!
Print to Use as Templates for Collage + Art
Another fun way to use these would be to print them out onto cardstock and then treat them as a blank canvas for your own art!
You could paint or collage them and then add them to your journal. This would also be a great way to design your own envelopes or gift tags for family and friends!
Import the PNG files for Your Cutting Machine
If you have a Silhouette or Cricut cutting machine, you can easily import the .PNG files and use them to have the machine cut the shapes out on your paper. This could be blank paper, scrapbook paper, or printed pages.
The individual PNG files in the download let you control the size and number of items per sheet you want to cut. This gives you a lot of flexibility!
Design Your Own Junk Journal Printables
Another thing you can do with these templates is to design your own junk journal printables! If you have Photoshop CC, Photoshop Elements, or Procreate on your iPad, you can use the Layered PSD files to easily add your favorite papers to the templates.
Here is a screenshot of how easy it is to add your own paper backgrounds to the templates in Photoshop: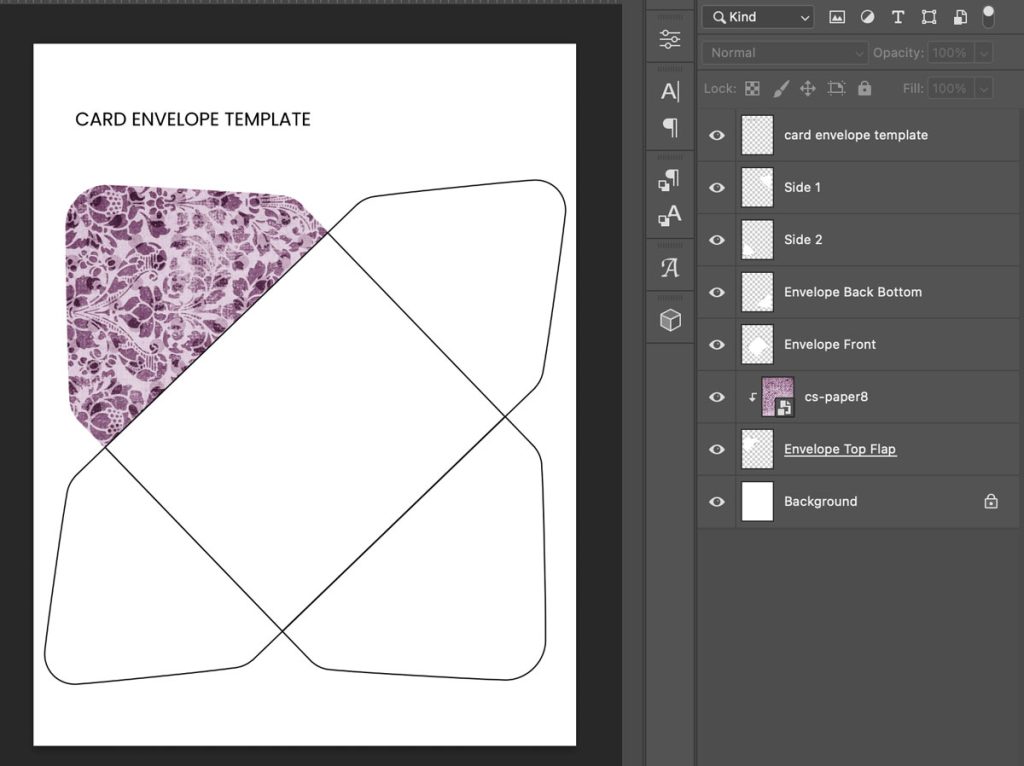 Learn more on how to customize the PSD Templates here.
---
Printing Tips
If you are printing these templates, the best file to use for printing is the PDF file that contains all of the different printable templates.
The elements were designed to print on 8.5×11 inch US Letter size paper. The layered pockets and the corner pockets were designed to fit onto a journal page that is half of this, so 5.5×8.5 inch.
For best results, make sure you choose Actual Size or Fit to Page and Borderless printing to ensure the papers print out at the correct size.
The PDF file contains 26 different sheets of junk journal templates. If you only want to print one sheet, you can tell your printer which page you want to print in the printer settings.
If you plan on using these as a cutting pattern to trace, it is best to print them on cardstock so they will hold up to extended use over time.
See my post on printing journal papers for some more tips on printing and troubleshooting common printer problems.
---
Folding Tips for the Different Junk Journal Templates
Many of the templates are self-explanatory, such as the tags – simply cut those out!
For the pockets and envelopes, you will need to do a bit of folding!
When making the folds, I recommend using either the back of a butter knife or a bookbinding bone folder after the edges are folded to get nice crisp fold lines.
The pockets are designed so the flaps will fold inside – this gives the pocket just enough extra height so it's easy to slide your tags and other ephemera in and out of the pockets. After they are folded, simply add your favorite glue and stick them down into your journal!
The layered tag pockets are designed so that they stack on top of each other. This is a fun way to add 3 pockets to a page!
The tuck spots are designed so that you can fold them in half and then attach them to the edge of the page, so the tuck spot will appear on both the front and back of the page. In the template set, there are templates for both the horizontal bottom of the page and the vertical side of the page.
Envelopes are relatively easy to fold as well – simply fold the sides and glue them together (make sure you don't glue them to the back of the front of the envelope!) and then glue the bottom back flap to the sides. Then, fold down the top.
---
These junk journal templates are so fun to use and I hope they give you some great ideas for different things you can add to your junk journals!
Have any questions about the template files? Just ask in the comments section below or send me an email – I'm always happy to help!