Christmas Doodle Shapes Templates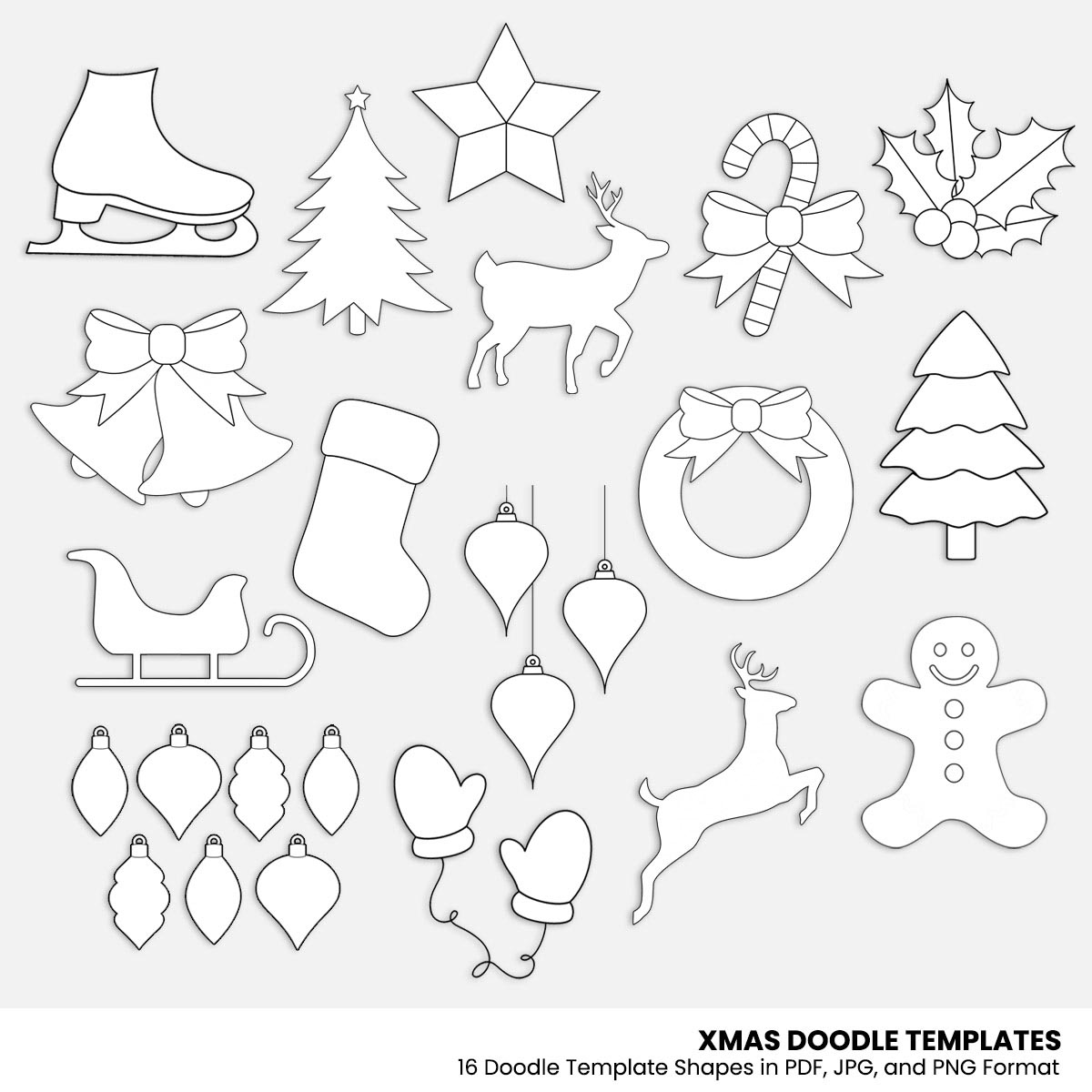 This is a super fun set of 16 Christmas shapes you can use in oh-so-many ways! You could use these as coloring/doodle printable pages, as shapes for your cutting machine, or even use them to design all kinds of digital art and printables to sell!
The download includes multiple file formats to give you tons of possibilities!
Print-Ready PDF: Use this for printing the shapes out to use for doodling with paper and pen or use them as templates for collage, sewing, embroidery, crafts, paper projects and more!
JPG Images: The JPG images are included so you can easily import the doodle shapes into your favorite digital drawing and coloring apps and digital notebooks such as Procreate, Pigment, GoodNotes and more!
Transparent Filled PNG Images: The transparent filled PNG images have a transparent background while the shape is filled with a black outline. These shapes are great to use as masks in Photoshop or Procreate or you could use them with your favorite cutting machine software to cut the shapes out on fabric, paper and more!
Transparent Outline PNG Images: These PNG files have a transparent background and are only the outline of the shape. These are great to use for designing items in Photoshop or Procreate or you could use them with your favorite cutting machine or laser cutter to cut shapes out of all kinds of materials or even use them for etching and embossing designs!
There are also tons of different images included in these templates!
Ice Skate
2 different Christmas trees
Christmas Bells
Candy Cane
Holly and Berries
Wreath
2 Different Deer Designs
Star
Multiple Ornament Shape Variations
Mittens
Gingerbread Man
There are so many fun ways to use these and I'm sure you will enjoy them for all kinds of uses – you can use them to make your own artwork, digital designs, crafts, gifts, handmade items to sell and so much more! The possibilities are truly endless!!! I love them!